Father Of 'Blue-eyed' Children Finally Explained Why He Abandoned His Blue-eyed Wife
For the past one-week now the video of a blue-eyed mother, and her Blue-eyed children have been trending online. The pathetic story of poor living lifestyles of Risikat Ayegbami and her two children was brought into public domain by a good Samaritan with the name Rukayat Oyindamola Alabi on her Facebook account. She said she met the helpless mother, and her children while at her home town of Ilorin after the Sallah celebration.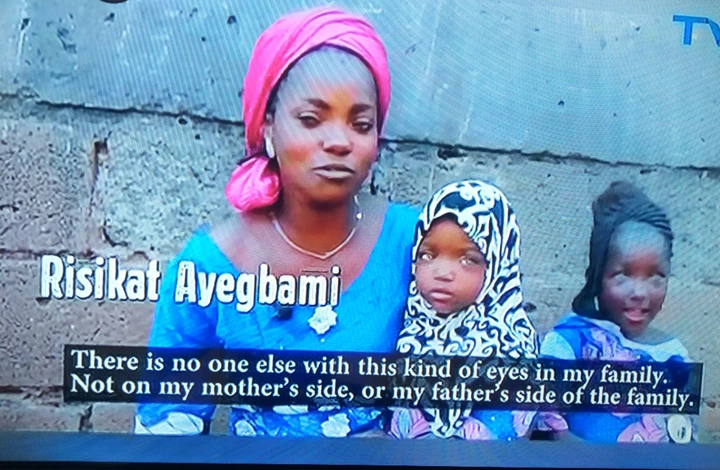 Risikat claimed her husband abandoned her because of her blue eyes and that of her children as well. Many Nigerians and non-Nigerians home and abroad have condemned in strong terms the wicked decision of the man for abandoning his family when it matters most. Many people are of the opinion the man took to his heal in a bid to run away from family responsibilities.
Meanwhile the man has now 'surfaced' from his 'sleep' like a thief in the death of the night. The man identified himself in a viral video posted on Twitter by Punch online as Wasiu Dada. Shockingly, he gave a different dimension to the twist of abandoning his wife and children.
His words read, "I didn't abandon my wife and children because of they were blue-eyed. In fact, I married her because of her blue-eye", he revealed.
He also exposed that he has been constantly with Risikat and his children. He claimed that he has been providing for the need of his wife and children, and that his parent-in-law is aware of this.
Mr. Dada Wasiu said, "I abandoned Risikat because of her waywardness".
Mr. Wasiu accused his parent-in-law of posting his children on Facebook and using them to beg for alms from Nigerians.
However, Risikat Ayegbami, his wife debunked this in a similar viral video uploaded by Punch.