I cannot go back to my husband, it's too late – Mother of children with blue eyes
Mrs Risikat Abdulwasiu who is the mother two girls that was driven out of her matrimonial home by her husband because of giving birth to children with blue eyes has revealed that she cannot go back to her husband who abandoned her because it's already late. 
Mrs Risikat Abdulwasiu whose case has gotten lot of attention from Nigerians this week due to her touching story revealed this during an interview with a correspondent from The PUNCH newspaper.
The 30-year-old revealed that she was unable to sit for West Africa Senior School Certificate Examination and National Examination Council due to financial constraint. Since she couldn't take the exams, her parents enrolled her as an apprentice in a medical store where she learnt how to sell medicine and after her apprenticeship, her parents established a medicine store for her which she was managing in Ilorin when she got married to her husband six years ago.
Concerning how she got her blue eyes, she revealed that when she was born, her parents discovered that the color of her eyes was blue and they didn't do anything about it since it was not affecting her vision.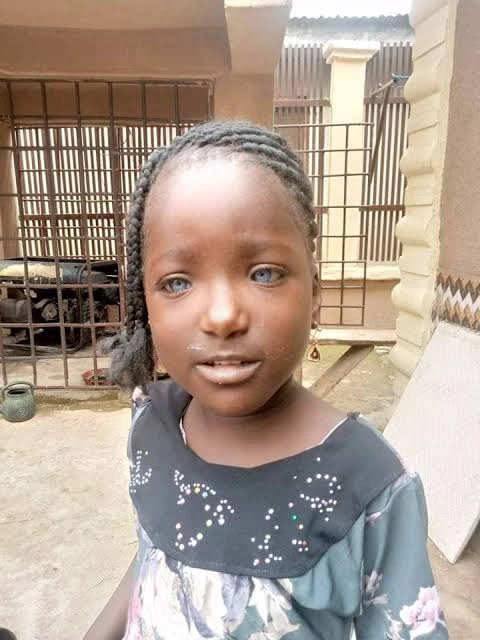 She also revealed that while growing up, she faced a lot of embarrassment from people as some of them saw her as a strange being because of her blue eyes. She revealed that she was sent out of her matrimonial home by her husband because his parents could not live with children with blue eyes.
Mrs Risikat Abdulwasiu stated that she gave birth to three children (2 girls and a boy) with two girls having blue eyes and the boy having a natural eye colour, but he died few months ago due to sickness as she had no money to take care of her children because her husband failed to give her money to take care of her children.
When asked whether she was considering going back to her husband, she revealed that it's no longer possible and she can't go back. To her, she's not ready to marry him again as it's too late already. She also revealed that she will remarry since she's just 30 years old and she has two kids as she is too young to live alone. She also gave condition that if she's to remarry, she will look for a man who is ready to take her the way she is.